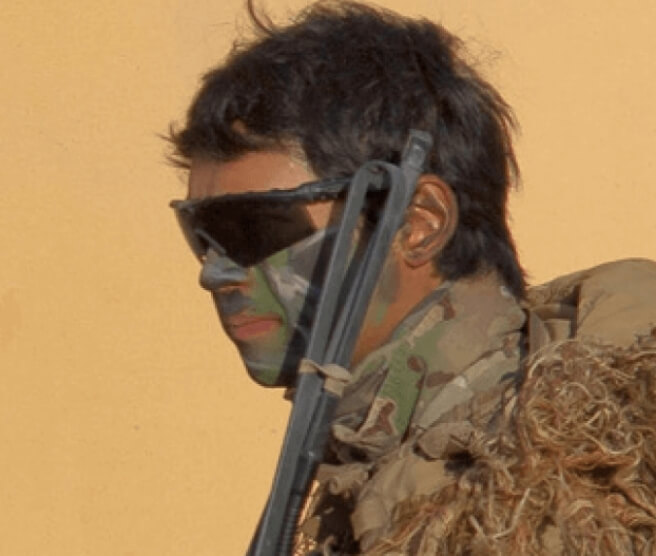 Tim is a deeply private person but has given permission for his story to be made public. He hopes that this will help people become more aware of the ways in which the Commando Welfare Trust is supporting Special Operations Command (SOCOMD) soldiers and their families.
In 2012 on his second tour in Afghanistan, Tim, an Electronic Warfare Operator, was on a mission manning the rear gun in a Bushmaster Armoured Vehicle. Tim had just volunteered to stay on and cover the winter rotation instead of returning home with his platoon.
Bad weather had made conditions poor. The vehicle was involved in a collision and Tim was knocked unconscious. When he came to, he realised he was paralysed from the neck down and was unable to breathe.
He thought he was going to die.
A medic travelling in the same vehicle acted swiftly and kept him alive. Tim would later learn that he had sustained a C4 burst fracture in his spine.
He spent over 18 months in rehab, both overseas and back in Australia. He worked tirelessly trying to regain as much movement as possible but remains paralysed and requires 24/7 support.
Medically discharged from the army in 2019, Tim used his compensation payout to assist in purchasing a house.
Tim's care puts a significant strain on his military pension, which is why requires further funding to secure the property and complete the modification work necessary to accommodate his special needs.
Tim has never asked for support from anyone. However, on hearing of his circumstances, the Commando Welfare Trust is now financing Tim's mortgage interest payments. In addition, the Trustees have pledged to raise the funds necessary to pay off the mortgage completely.
Should you wish to support Tim Pereira, who has paid a massive price in the service of his country, please donate to this worthy cause.
For more information about Tim's story or on how to donate, please reach out to us today