We would like to share an update regarding Taraidh Colquhoun, the Australian Special Forces veteran who suffered severe injuries in a mountain bike accident in late May, which required surgery to restore a break in the C6-7 of his spine.
Taraidh is now out of the induced coma and is breathing on his own once again. There is some movement in his arms, but it appears that he may not regain the use of his legs.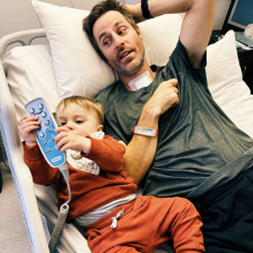 Taraidh is now moving to the Royal Talbot Rehabilitation Centre in Melbourne, where he will undergo further treatment for an estimated 4 to 6 months. During this time, he and his family will face various challenges as they navigate this next chapter in their lives. The extent of his eventual recovery is still uncertain.
We want to thank the Commando Welfare Trust community for the swift support you provided when we reached out in early June. We are very proud to see the community stand behind Taraidh, Darlene, and their children during this difficult time.
Taraidh's wife, Darlene, has been by his side since the accident, showing unwavering support. She has moved herself and the children to Melbourne to be with Taraidh during his recovery process.
The Commando Welfare Trust has been actively supporting Taraidh and his family, making visits to Melbourne to offer assistance. We will continue to provide them with the ongoing support they need during this long journey.
For those who wish to make direct contributions, one of Taraidh's fellow soldiers has set up a GoFundMe page to aid in his recovery and support his family.
We will keep you updated on Taraidh's progress.